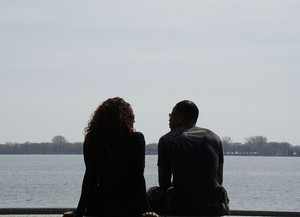 Erich Fromm, in his famous treatise "The Art of Loving," said this. "There is hardly any activity, any enterprise, which is started with such tremendous hopes and expectations, and yet, which fails so regularly, as love." (That was in 1956.)
Is love really some random act that just happens to its unsuspecting victims? When you least expect it, there you are falling? Is it some super virile emotion that overpowers its prey at whim and casts them in its webs of passion and throes as it sees fit ultimately to their extreme delight? Can that be? A similar sentiment is shared by Gila Manolson in an exerpt from her book "Head to Heart". "Many people believe love is a sensation that magically generates when Mr. or Ms. Right appears. No wonder so many people are single."
What is the cause of love? Are there really any people that are 'in it' against their own will or desire? Many enough have no problem finding an 'exit' when the going gets tough, after the newness has worn off, or love 'reassigns' them to a new mission of interest. What are we really to make of this? Is there any sense to be made of this most pleasant madness? Some say it can happen at first sight, others say 'you just know' when it happens, yet, others say love takes time. Which is it?
Can all these seemingly contradictory ideas be equally valid? Still others take issue with love being defined. Is seeking a definition a bad thing though; the act of trying to understand this thing we call love. The easiest way to abuse anything is to misunderstand what that particular thing is or its use which leads to "misuse" or abuse. Think carefully about what it means to love or be in love. There's only a short window of time before your emotions will override your ability to view things objectively.
It's often good to have a wise older confidant that's not emotionally involved to confer with on these issues of love. That person can tell you the truth about yourself or the person of your interest when you can no longer see the forest for the trees. Choose this person wisely as well. Remember love is most demonstrated by the behavior of those that pledge their love not by mere words that are spoken. Words are too easily acquired. They're only a few inches below your nose and in endless supply. Again, move with caution as your two worlds blissfully, yet dangerously, collide as you explore the possibility of love with this new soul.